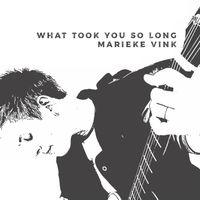 "What Took you So Long" is the highly anticipated and energetic debut single by Swansea-based singer/songwriter Marieke (Pronounced: MahREEkuh) Vink. A break-up song with a difference, What Took you So Long takes a humourous look at the end of a relationship without taking itself too seriously. The country-rock song was written by Marieke and produced by Ash Tu-Kay and Rebecca Ryan from Tu-Kay Records. 
After moving from The Netherlands, Marieke first established herself in the music scene in Northamptonshire as a performer of cover songs. In 2020, she finally picked up a pen and started writing and performing her own songs. She quickly became an audience favourite, thanks to the raw honesty of her songs and performance. After working with some of Northamptonshire's leading acts, providing harmonies and backing vocals, Marieke is now leading her own charge from the shores of Wales. 
"What Took you So Long" is available on all major platforms (and a bunch of smaller ones too).