Summer is finally here and I have been busy.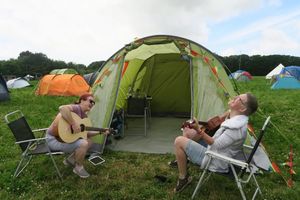 Just back from playing the amazing Out & Wild Festival in Lawrenny. What a great new addition to the festival circuit. I played a "skilfully shambolic" singalong hour with the lovely Celine Ellis, and a bunch of my own songs as well for a kind and appreciative audience. 
Next I am gearing up for a very special gig with the sublime Fossilheads in Swansea on July 3rd. Fossilheads are Rosie Swayne and Dr Rachel Duncan.  Utterly brilliant, poignant and hilarious. songs about climate change and Baby Dyke Barbies.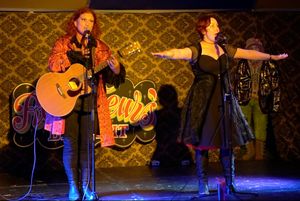 "The duo's songs about the looming climate catastrophe are as timely and pointed as they are funny. The pair are fantastic performers with great chemistry and stage presence. Songs about climate change denial and corporate greenwashing are delivered with a mix of comedic character work and incredible musicianship. As per their introduction, they do indeed put the 'ooh' in 'existential doom'". TWINFEST REVIEW, NEW BOOTS
Get your tickets here for a mere £4. 
Further gigs are lined up at The Railway Inn in Killay on July 17th and The Plough and Harrow in Llansamlet on the August Bank Holiday. In what I am sure will be another highlight of my year, I will also be playing at the amazing Green Gathering Festival in August. This has been a dream for me since my musical friends have been waxing lyrical about this festival for years.