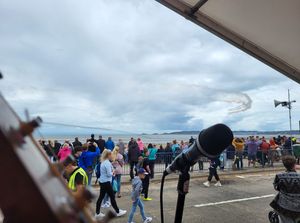 What a lovely weekend this was. On Saturday I welcomed my parents (who are on an epic 6 week camping holiday around South Wales) and they joined me at my first gig of the weekend. Looking out over Swansea Bay, with the Red Arrows to escort me, I played a 20 minute set at the Wales Airshow. Great to see the event return after COVID! So many great musicians as well, over several stages along the Mumbles Road. Thanks to Swansea Music Hub for the opportunity. 
Saturday afternoon saw the arrival of Doctor Rachel Duncan, one half of musical royalty Fossilheads, with whom I was going to play a gig on Sunday. Of course there was food at my house which included wine, BBQ and much merriment.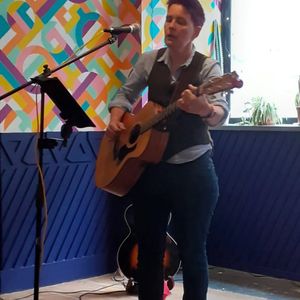 After an epic overnight bus/train journey from the depths of Plymouth, Rosie Swayne, the other half of Fossilheads, made at to Swansea with no sleep and a big guitar case.  Nothing could kill the buzz and enthusiasm for the afternoon show at Elysium Bar & Gallery on Swansea's High Street though. 
This was the first gig I have ever played where people paid for tickets specifically to watch me play (although I suspect many of them came to see Fossilheads but I am still claiming this as a win). I find it incredibly humbling since I only started writing songs a few years ago after telling myself for decades I'd be no good at it so why even try. Since then, music has literally been a life saver at some very dark moments. It was wonderful to see quite a few friends and people I knew. Anyway...the lovely audience clapped in the right places for a 45 minute set with songs about death, betrayal and deceit. you know, the normal Lesbian Angst.
Then it was time for Fossilheads. Putting the "oooh" back in "existential doom" -their mission is to encourage audiences towards climate action with their unique eco-political/comic/folk/opera/theatrical songs. And boy did they deliver. The audience was wrapped around their fingers and the reception was warm, welcoming and very enthusiastic. Now go and listen to their music on Bandcamp (and then buy it to support their mission).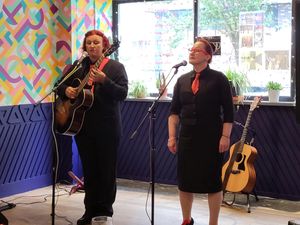 Of course the only way to finish this off on a high was by going for a curry. My parents have no real experience with Indian food as there are no such restaurants in The Netherlands really (we had different colonies...) but they were game to enjoy this very British traditional dish. 
A great weekend full of love, music and friendship. Next gig is at The Railway Inn in Killay on July 17th. That place is really my Home Turf now :-) See you then.