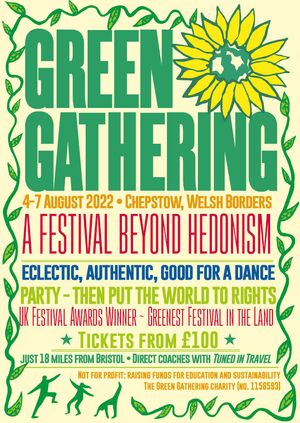 When playing at the Out & Wild Festival last month, I was approached by a lady from The Green Gathering Festival. Asking me if I wanted to play the festival in August? Do I? Hell Yeah! Green Gathering is a lovely festival. It is entirely self-sustainable with all power coming from renewable sources. My lush friends of Fossilheads are also playing which in itself is reason enough to go. It will certainly be the biggest festival I have ever played (Well, if we ignore the rather disastrous slot I did as part of a duo at Camp Bestival about 10 years ago).  I am very excited about this and cannot wait. 
Four days of low impact living in an area of outstanding beauty, every nook and corner bursting with music, comedy, creativity, campaigns and natural abundance. The original off-grid festival, we're 100% powered by sun, wind and people. 
The intimate solar stages showcase up-and-coming acts, legendary festival favourites, DJs, poets, spellbinding raconteurs and more. Family-friendly and people-friendly - Green Gathering welcomes anyone from all walks of life.
There are still tickets and you should get some. Get them here: Green Gathering Tickets.