Three months ago, I accidentally volunteered to run an open mic in Swansea. "There are so many already" I hear you say. And you would be right. But there isn't one like this one. 
The Swansea Songwriter Sessions are for original material only. Musicians can only play songs they have written themselves. It doesn't matter what instrument they play or if they don't play an instrument at all. But the songs they perform must be their own material, or the material of a member of their band/group/duo/trio (I think it is certainly a band if it is more than a trio!).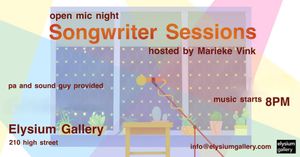 The first one in July was a promising start with 8 performers showing up. The same in August and some new faces as well. This week saw the September edition and it was the best of the bunch so far. It looks like word of this very special open mic is spreading around South Wales. Performers came from Cardiff, Swansea, Pontarddulais and more. There were so many performers, I had to start the night 30 minutes earlier just to fit everyone in. 
The feedback we are getting for this night is so humbling. Performers tell me it is such a positive experience to play for an audience that is not expecting them to play Wonderwall or Sweet Caroline. An audience that understands that songwriters need to be able to perform their songs in order for them to really inhabit the words and music.  This week, Catherine Elms (check out her brand new video, released today) gave the audience a wonderful present in the form of a brand new song that had never yet seen the light of day. The idea that she felt the Songwriter Sessions was a safe place to give the song its first run out is exactly what I was hoping for when starting these sessions. 
The next session is on the 22nd of September at Elysium Gallery & Bar, 210 High Street, Swansea. Bring a friend and an instrument, or just come and listen to the amazing talent on show. Support local music!